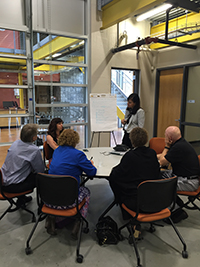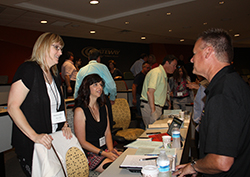 The expansion of career pathways across the country provides opportunities for employers with common workforce challenges to partner with community colleges to create certificate and degree programs that address their collective talent development needs. The Advancing Credentials through Career Pathways initiative advocates an environment in which actively engaged employers work in co-leadership roles with educators to design career pathways that are comprised of industry-validated stackable credentials. Pathways are delivered through flexible systems that provide options for working students and offer multiple exit points aligned to employment opportunities.
The Advancing Credentials initiative provides support to community and technical colleges in three focus areas:
1. Significantly enhancing employer engagement;
2. Designing career pathways comprised of industry-validated stackable credentials; and
3. Establishing institutional policies or practices that support non-credit/credit integration.
Participating institutions receive customized technical assistance from subject matter experts and a dedicated coach who helps colleges achieve goals in each focus area through action plans based on local needs. Cohort colleges also benefit from networking opportunities through institutes, webinars, an online community of practice, and site visits.
The project is led by CORD with funding provided by the ECMC Foundation. To learn more, contact hcotner@cord.org.

Project Resources:
Introduction to Stackable Credentials
Developed by CORD as part of the Pathways to Credentials project, an initiative of the US Dept of Education, Office of Career Technical and Adult Education, the toolkit provides practical steps for enhancing employer engagement, designing programs with stackable credentials, supporting student completion, and sustaining programs responsive to employer needs. Each section offers resources, tools, and promising practices.
Employer Engagement Toolkit
A resource of the Advancing Credentials through Career Pathways project, the toolkit is designed to help colleges identify new areas for employer engagement, implement engagement activities, and manage their partnerships.
Grantees include:
Bakersfield College
Catawba Valley Community College
Forsyth Technical Community College
Isothermal Community College
Lehigh Carbon Community College
Luzerne County Community College
Mitchell Community College
Oakland Community College
Owensboro Community and Technical College
Piedmont Community College
Reedley College
Robeson Community College
Rock Valley College
Rowan-Cabarrus Community College
Shasta College