Knowing Your Audience
College Activities
Activity #1 – Identifying Your Goals
Working with your department, division, or college-wide focus group, complete How Can Your Employers Help Your Program. This will allow you to think broadly about future goals and how employers may play a role in helping you achieve them.
Activity #2 – Identifying Employers
Develop an internal checklist for the college staff and faculty team to identify roles and responsibilities. This provides a cohesive team approach when working with employers.
Research employers before meeting with them. Visit the "about us" section of company websites to learn more about the employer, their services, products, etc. This can help you align the college's terminology with that of the employer.
Starting with a specific industry sector (manufacturing, healthcare, IT, etc.) identify the sources for compiling a list of employers in that sector. Sources may include:
Local Chamber of Commerce directory
Economic Development Organization member directory
Workforce Development Board members
College Foundation board members and donor list
Graduate placement survey data
College databases or lists of employers (department, division, or college level)
Brainstorming with faculty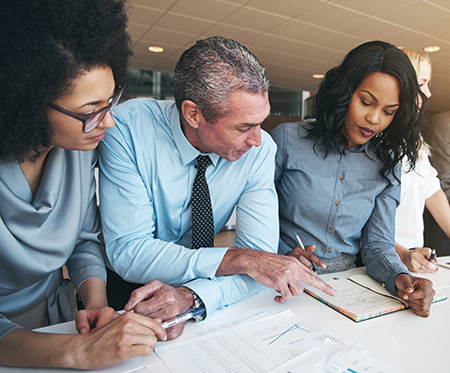 Complete Identifying Employer Contacts to determine who the key connections and contacts are at your college. In other words, identify who at your college can assist you with making contacts with these organizations.
Once you have identified employers in a chosen sector, add their names to Employer Engagement Worksheet and place an "X" in the box indicating each employer's involvement, if any. You may need to work with other departments at your college to complete this form.
Note: If your college uses a Customer Relationship Management (CRM) tool you may wish to enter this data into the software.
This activity will provide a snapshot of currently engaged employers, future opportunities with existing employers, and new employers to reach out to for engagement opportunities.
Activity #3 – Create an Outreach Plan
From your completed grid, determine which employers have no "Xs."
Working with your department, division, and perhaps your college's Business Outreach and Marketing staff, brainstorm ways to perform outreach to those employers with no "Xs."
Using Outreach Plan Worksheet identify whom from your college will make the initial contact with an employer, how the outreach will be made, what information will be shared with the employer, (talking points, message, etc.) how the outreach will be tracked, and how the information gathered will be shared at the college. Note: You may wish to ask your workforce, economic development, or chamber partners if they would introduce you to employers that are their members.
From your completed grid, determine which employers have some "Xs" but could benefit from engaging in additional department, division, or college-wide activities.
Since these employers are already engaged in some way, determine whom from your college has the existing connection and determine a plan to reach out to that employer. You may use Outreach Plan Worksheet for this activity as well.
IMPORTANT: Ideas may include personally inviting employers to a College event and scheduling time to visit them to learn about their business (not to sell or to ask for anything).
Activity #4 – Continuing Outreach
Consider following all employers on your Employer Engagement Worksheet on social media.
Identify whom from your college should/could do this.
Interact with employers by sending handwritten notes when they are in the news – new product release, awards received, business expansion, hiring, etc.
Anticipated Outcomes:
Increased employer engagement
Increased understanding of depth of engagement – which employers are most engaged with your program/college.
Identification of gaps of employer engagement – which employers aren't you serving?
Activity #5 – Create A Glossary
Create a glossary of terms and acronyms used by the college along with definitions (i.e. work based learning, Credit for Prior Learning, Industry recognized credentials, etc.) to increase employer understanding.