Mining for Deeper Engagement
Introduction
Employers as Resources
Student recruitment, and ultimately enrollment, is one of the most critical factors for college funding. Some colleges see recruitment as the work of their admissions or student services departments; many colleges see it as the work of every college employee; however, few see local employers as part of the recruitment process.
Through employer engagement you learn which employers hire your graduates, which are involved in your programs, activities, scholarships, etc. They are your best testimonials for the work you do and the relevancy and rigor of your programs.
Prospective students want to know what their career options are when they finish their degree. Employers who offer job shadowing or facility tours can be an asset to your recruitment efforts. Students who can see the work environment and talk to others who are currently in their field of interest are more likely to connect your college's program to the career they are seeking.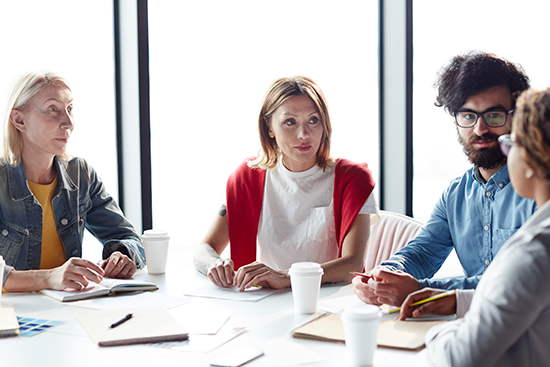 Student Opportunities
If work-based learning opportunities, such as internships or apprenticeships, are important to your students while they are completing their studies, asking engaged employers to come to the classroom and discuss these options and/or serve as guest speakers will help them feel more connected to the program and the students.
Another target audience for recruitment is an employer's incumbent workforce. Do local employers turn to your college first when they are seeking skills training for their employees? If they are aware of your program and engaged with your college they will make their first call to you rather than to other training organizations in your region. Staying in contact with them about the expertise available from your faculty allows them to see the depth and breadth of available training opportunities.
Employers who participate in career fairs, mentor students, provide data on skills needed today and in the future, share their projected hiring needs, and hire graduates should all be part of the college's recruitment strategy.
The ultimate connection is the hiring of your graduates and providing feedback on the skills and abilities of those graduates. This helps to continually inform your program. Engagement in the program development process, donation of in-kind or financial resources, and broader involvement in advocacy and other initiatives enhances an employer's engagement level and makes your college more desirable to prospective students.
Considerations
Employers may not be aware of how to start an internship or apprenticeship program. Provide them resources and refer them to other employers who may already have internal systems in place.
Employers have expertise in specific content areas. If you reach out to them to be a guest speaker in your classroom, provide adequate lead time for them to prepare and discuss your, and their, expectations.
Employers may not have the time to write a testimonial, so pair them with your college's marketing department for a brief interview. Write the testimonial based on the interview and allow the employer to proof and edit before signing their name to it.
Ownership and buy-in of the engagement process are critical on both the college and the employer side. If the program is not aligned, employers are not likely to hire graduates, attend career fairs, or be advocates for the college.